Winter fishing blues?  You need to go ice fishing! We offer full day and half day ice fishing trips.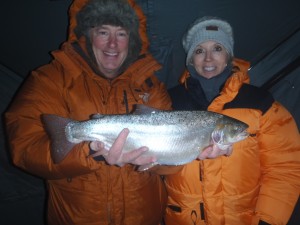 Laramie and the surrounding area have many lakes  offering  excellent ice fishing.    The Laramie Plains lakes produce some of the largest  trout in Wyoming.  Lake Hattie is full of Yellow Perch, Kokanee Salmon and trout.  We also offer ice fishing trips to Wheatland #3 which also has large trout and Walleye.
We can set up the perfect ice fishing trip for you!  Our trips include all the gear you need.  We setup huts and heaters to keep you warm.  Full day trips include lunch.  If you have have never tried ice fishing or just want to get out and catch some fish, give us a call.
We offer ice fishing  on the following lakes:
Lake Hattie
Twin Buttes Reservoir
Wheatland Reservoir #3
Toltec Reservoir
Crystal Reservoir
Granite Reservoir
Sodergreen Lake
Private Lakes with trophy trout (additional charge)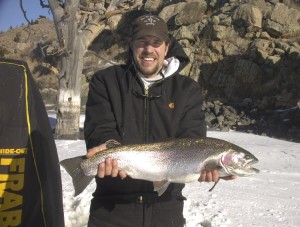 Call or email us to book your trip today!
 twodogsguideservice@gmail.com   or (307) 761-2921
An equal opportunity service provider operating under permit from Medicine Bow-Routt National Forests and Bureau of Land Management.  
We are Licensed, Bonded and insured in Colorado and Wyoming.  Colorado License # 2532