Whitewater
1/2 day – Routt to Six Mile Gap
The North Platte provides some awesome whitewater from mid-May to mid-June and sometimes all the way to July.  This is the headwaters and we rely on snow pack to provide us water.  This trip starts at the Routt put-in in Colorado and takes out at Six Mile Gap in Wyoming.  You will float through the Platte River Wilderness and have the opportunity to see Bears, Big Horn Sheep, Elk, Moose, Deer, Eagles, ducks and much more.  The Canyons are massive and the old forest comes right down to the river.  You will raft approximately 10 miles through Windy Hole Rapids, Cowpie Rapids, North Gate Canyon (Narrow Falls), Tootsie Roll Rapids and Stove Pipe Rapids.  This is a trip you won't forget!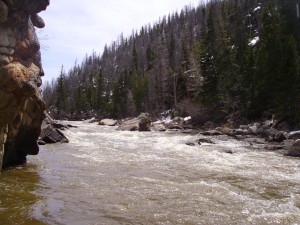 Full day – Routt to Prospect
In this trip you will experience everything in the Routt to Six Mile plus you will get a lunch and raft an additional 9 miles of river.  The rapids are far fewer down here but the scenery is beautiful.  Here you have the opportunity to see wildlife and float through more canyons and open meadows with sage brush hills coming down to the river.  The river starts to leave the pine trees behind and change to cottonwoods.  The takeout here is 4X4 only and can be just as exciting as the river!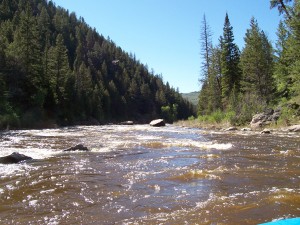 Scenic
Not into whitewater, then try one of our scenic floats.  We offer scenic floats from May thru October. The first put in for these floats is Six Mile Gap.  We can take you through the mountains to the plains with these floats.  Let us customize your scenic float for you. You will see a variety of wildlife on these floats.  This is a great way to see the country and relax at the same time.  We offer half day and full day scenic floats.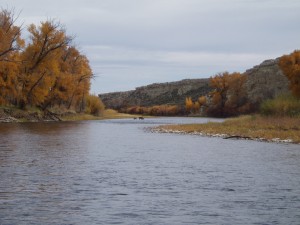 Call or email us to book your trip today!
twodogsguideservice@gmail.com   or (307) 761-2921
An equal opportunity service provider operating under permit from Medicine Bow-Routt National Forests and Bureau of Land Management.  
We are Licensed, Bonded and insured in Colorado and Wyoming.  Colorado License # 2532